OfficeCalendar for Microsoft Outlook
Do you and your colleagues continuously have problems with conflicting schedules, double-booking appointments, or simply cannot seem to get all of your contacts or tasks together in one place? If so, OfficeCalendar may be the solution for you.
With OfficeCalendar, colleagues can share their Microsoft Outlook calendars, email, contacts and tasks with one another for easy coordinating and scheduling; all while providing comprehensive sharing security and without Microsoft Exchange Server. OfficeCalendar also offers the ability to create customizable group calendars to ease scheduling headaches.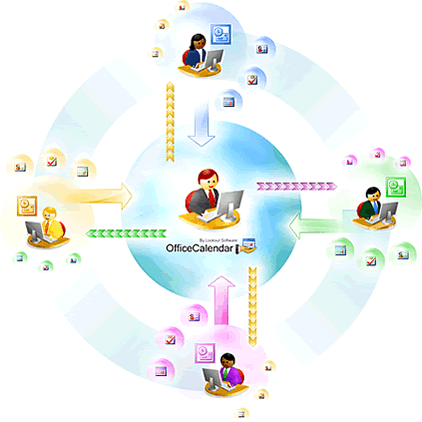 Whether you have a dedicated server computer or a basic peer-to-peer network, OfficeCalendar can be installed on practically any Microsoft Windows® based network.
Share Microsoft Outlook Calendars, Contacts & Tasks
Sharing your Microsoft Outlook calendar, contacts and tasks is easy with OfficeCalendar. Once OfficeCalendar is installed and configured on your network it will create sub-folders under each of your Outlook folders (Calendar, Contacts and Tasks) for each person that is sharing their Outlook information with you. Simply click on a user's sub-folder to view that person's calendar, contacts or tasks. Security rights are assigned to each user, ensuring that user only sees what he/she is supposed to see.
Share Microsoft Outlook Email folders
Share your Microsoft Outlook email folders with colleagues using OfficeCalendar as well. OfficeCalendar uses your Outlook's Send/Receive function to synchronize shared email folders. Security remains in place with email folder sharing, as you choose who you want to share your email folders with and what level of access they have (read, write and/or delete).
Access your Outlook folders online
Outlook web access is easy with OfficeCalendar Online, an additional feature of OfficeCalendar. Access your personal and shared Outlook calendars, contacts and tasks online using your web browser from anywhere or at anytime, just as like you see them in your copy of Microsoft Outlook.
Create multiple interactive group calendars
OfficeCalendar also lets you customize interactive group calendars for easy group scheduling. Whether you want to group all users' calendars together on one big calendar, or pick and choose which users' Outlook calendar appointments go into a group calendar; the choice is yours. OfficeCalendar's unique sharing security also ensures that you choose who sees what, so privacy is never compromised.
An affordable alternative to Microsoft Exchange Server
Small to medium-sized businesses often find Microsoft Exchange Server to be expensive and too much hassle, due to the high costs of its software, hardware, installation, and never-ending maintenance. OfficeCalendar is an affordable alternative that only requires Microsoft Outlook to function. It's also very easy to install and maintain yourself, so outside technical assistance isn't necessary.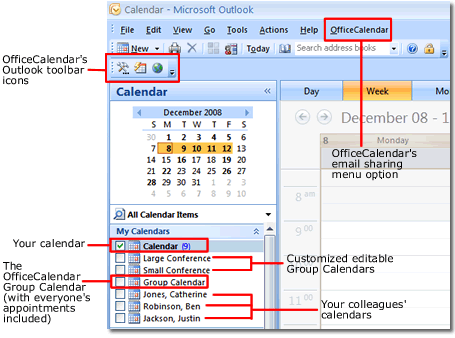 Download the latest free trial version of OfficeCalendar today!
For more information about OfficeCalendar, or to download a free 14-day trial version of OfficeCalendar, visit
www.officecalendar.com
.